Creating a team that cares about each other and the product is completely integral to every company's success. Company culture shouldn't be something "extra" you think about, like throwing in some free food hoping to keep everyone happy. Culture to ReadMe means creating an environment where everyone feels supported and can be a productive part of our team. What ReadMe can create as a team is far more valuable than employees who are just doing as they are told, so we do our best to make sure we are doing everything we can to support the team.
We don't have any full-time remote employees, but we do let ReadMe employees work from home as often as they need to. We built our company culture around balancing community and flexibility. Our office is our home base, but if someone needs a day working from their living room, we support that too.
We enjoy the flexibility to work from home when we need to, but having a place we all see each other regularly keeps us all invested in each other—and our communal success.
We've Instituted a "No Guilt" Policy
Optimal productivity changes from person-to-person, and even from day-to-day. Some of us work best from our home couches or cafes. And some of us work best from the office! We give each other the opportunity to decide where we can be most productive.
Our policy says we do Work From Home Wednesdays, and anyone can work other days from home if they need to. Usually, people work from home between one and three days per week. It's documented in the ReadMe Employee Handbook: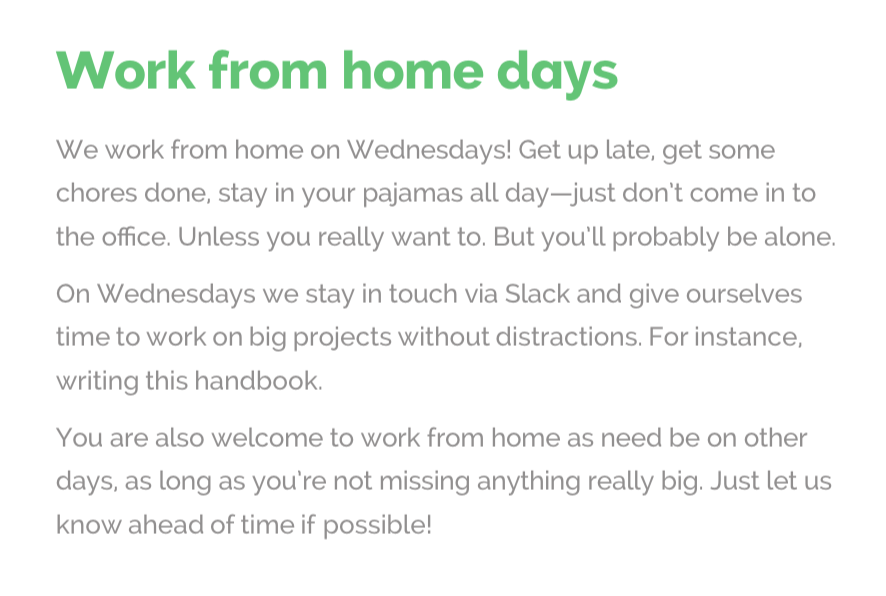 Documenting our work-from-home structure in the ReadMe Handbook cements it as a policy. Because it's written down, anyone can take advantage of it—it's not an unspoken agreement, and no one has to feel guilty or ashamed for working the way they do best.
Working Together, Separately
While most of the time we love our open floor plan, it can definitely get distracting when you need to work on a long-term project. Everyone at ReadMe designs or develops in some capacity, which means we need long stretches of uninterrupted time to make the most of our workday. Projects usually take about six to eight hours to finish. Days offsite give us the chance to focus, get creative, and do more deep work without distractions.
Our non-remote, work-from-home model lets us coordinate our projects easily because we're in the same location, but also discourages unnecessary meetings. We delegate projects to individual employees, so we don't have update meetings interrupting our workflow. We have one weekly stand up meeting on Monday mornings that everyone attends in person, but most of our communication after that is online.
We use check-ins to make sure everyone's individual work aligns with team goals.
Daily check-ins. Howdy is a bot built right into Slack. You fill it out by writing what you did the day before and what you're planning on doing that day, and it broadcasts the whole team's answers to Slack.
Weekly check-ins. Lattice has weekly check-ins and goal tracking that help us keep track of progress over the long-term. It forces us to focus on our quarterly goals, we know when we don't have any updates for a particular goal it's something we need to focus on.
Quarterly check-ins. These take place in person, usually somewhere offsite. They give us the chance to hash out big ideas and ReadMe's direction. We have a big group discussion about our company's future and what we want to see going forward.
Communication creates a positive work-at-home culture by reminding us we're connected, even when we're not working in the office.
We Are a Community
Creating an office community is about more than making friends, it's about having a group of people working towards a common goal. We take each other out for coffee just to check in. We host happy hours on the roof of our office. We chat about the future of ReadMe during team lunches.
These face-to-face interactions are precious—when everyone's in the same space, we exchange ideas organically. It's not the same over Skype. At lunch, at the water cooler, and even in the elevator, there's a free, informal exchange of ideas. People are constantly collaborating on how to make the company better, and the excitement is infectious.
At ReadMe, we value this community above all else—it's actually baked into our hiring process. One of the mottos in our handbook is "Do what's right," and it applies to all aspects of our company.

We hire people that are team-oriented, who want to contribute and help build our company. That's why our model works. The people who are a fit for us are the ones who will be working for team successes, whether they're at home or in the office.
We're Ready to Grow
Right now, it feels like we have it all. We've got the flexibility to work how we want to, and the closeness of a team we're motivated to work with. We created a workplace that's both flexible and accountable at the same time.
As ReadMe grows, our policies might have to change, but the ideas behind it won't. We might expand to include remote workers, but if we do, we'll make sure to build them into our community—whether it's Skyping them into team lunches, or flying them to San Francisco for our quarterly goal check-ins. We'll find a way to keep both our flexibility and our free-flowing exchange of ideas.
And Owlbert is in favor of keeping Work From Home Wednesdays forever.